Hip Resurfacing (Metal)
For more information, see also Hip Replacement and Ceramic Hip Resurfacing.
What is Hip Resurfacing?
Hip Resurfacing an alternative to conventional Total Hip Replacement used for the management of established osteoarthritis. Hip Resurfacing utilises a bone preserving prosthetic implant with exceptional wear, impact and dislocation resistance and is commonly recommended in younger and higher activity demand people who are experiencing problematic symptoms that are not adequately controlled by non surgical therapies.
What are the differences between Hip Resurfacing and conventional Total Hip Replacement?
In conventional Total Hip Replacement procedures, the femoral head (ball of the hip) is removed and a stem implant (rod) is placed into the central part of the upper thigh bone. Onto the hip replacement stem, a ball component is placed that is free to move within the prosthetic socket (acetabulum).
In Hip Resurfacing, the femoral head bone is retained and no stem implant into the upper thigh is necessary. The hip resurfacing procedure involves removing the damaged arthritic joint cartilage and re-lining the joint surfaces with prosthetic bearing surfaces (hence the name "resurfacing").
Left: Conventional Total Hip Replacement. Right: Hip Resurfacing.
Model illustrations of hip resurfacing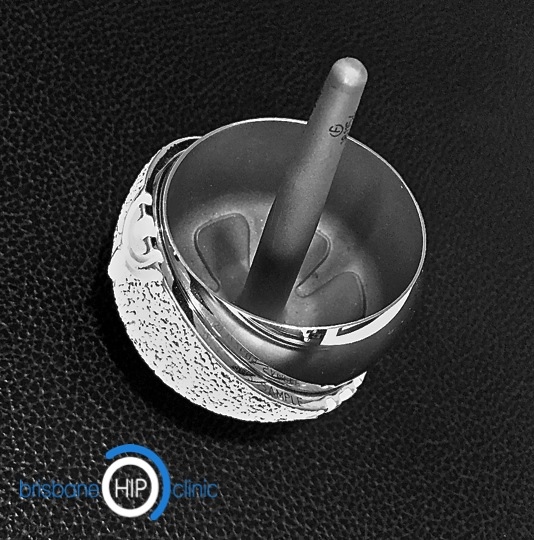 Left and Centre: Femoral resurfacing demonstrating preservation of bone beneath the prosthesis. Right: Resurfacing femoral and acetabular implants.
What are the advantages of Hip Resurfacing?
In modern orthopaedic practice, the main advantage of a Hip Resurfacing compared to conventional Total Hip Replacement is preservation of bone at the top of the thigh bone. Should further surgery be required in the future, preserving this bone makes the subsequent revision procedure less complex, thereby shortening the recovery time and potentially improving the durability of the second operation. Preserving bone is therefore most important in younger people with higher activity demands, who may potentially out live an artificial joint of any design.
Metal Hip Resurfacing uses impact and wear resistant bearing surfaces that are more suitable for higher grade activity demands including running and impact sports.
The incidence of dislocation is much lower for Hip Resurfacing in comparison to conventional Total Hip Replacement.
What are the disadvantages of Hip Resurfacing?
Not all people are suitable for Hip Resurfacing. People who are less suitable for metal hip resurfacing devices include those with severe hip deformity or reduced bone strength due to cysts or osteoporosis. Importantly , there is a minimum size requirement for metal hip resurfacing procedures - hip resurfacing is unsuitable for people where the femoral head is of smaller size (this applies to many women).
Traditionally, Hip Resurfacing uses Metal-on-Metal (MoM) bearing surfaces. While MoM bearings have a very low wear rate and are impact resistant, a small number of people may develop allergic type reactions with this type of bearing. The incidence of this reaction in modern hip resurfacing is approximately 0.5% in appropriately selected candidates. Should Hip Resurfacing be recommended then the merits of this implant in comparison to alternative prosthetic designs will be discussed with you in detail.
Who is suitable for Hip Resurfacing?
Traditionally, the ideal candidate for Metal Hip Resurfacing is a larger framed male less than 65 years of age with severe osteoarthritis of the hip. Increasing evidence does however support the use of Hip Resurfacing in people older than 65, provided they meet all other requirements for the procedure.
Who is unsuitable for Hip Resurfacing?
People with arthritis due to underlying hip dysplasia (shallow hip socket) are at higher risk of implant failure if treated with Hip Resurfacing. Generally people with significant hip dysplasia are not suitable for hip resurfacing.
Size of the femoral head bone is arguably one of the most important factors determining outcomes after Hip Resurfacing. As smaller implant sizes (less than 48mm for the femoral component) are associated with increased failure rates. Accordingly, many females with hip osteoarthritis do not meet the skeletal size requirements for resurfacing.
Does A/Prof Weinrauch perform hip Resurfacing?
Yes. Hip Resurfacing provides reliably good results in appropriately selected people.
Are other bone preserving hip joint replacement alternatives available?
Yes. If you are not suited to Hip Resurfacing, there are other alternatives that may be considered. These may include a 'microplasty' conventional Total Hip Replacement (short femoral stem) or a femoral neck preserving design implant.
More recently,
ceramic hip resurfacing
has also become available for the management of advanced hip osteoarthritis. These implants have only been clinical use since 2018 and therefore the long term clinical results are not yet known. Until longer term performance data is available, I therefore recommend consideration of this alternative only in selected situations.
Recommendations for treatment with a particular prosthesis or procedure are made taking into account a number of factors. I will discuss with you in detail the relative merits of the suitable options after your evaluation in clinic.
What other alternatives are available?
Many people with early to moderate hip arthritis are able to improve their symptoms without requiring surgery (see 'Non-Surgical Treatments'). Some people may benefit from hip arthroscopy (key-hole surgery) or other joint preserving surgical procedures. For people who require artificial joint replacement, the alternatives are typically Hip Resurfacing or Conventional Total Hip Replacement. I will recommend a particular treatment based on your requirements.
Table 1

Comparison of Hip Resurfacing (MoM) v Conventional Total Hip Replacement.

Hip Resurfacing (Metal)
Conventional Total Hip Replacement (THR)

Indication

Severe arthritis. Pain not controlled by other methods
Severe arthritis. Pain not controlled by other methods.

Design features

Femoral head bone retained.

Damaged joint cartilage exchanged to prosthetic bearing surfaces.

Femoral head bone removed.

Stem component placed into hollow centre of upper thigh bone.

Bearing
Metal on Metal (MoM).
Ceramic, polyethylene or metal surfaces (or a combination) can be selected.
Advantages

Future revision of femoral component simplified.

Wear and impact resistant.

Lower dislocation rate.

Broader range of patient suitability (osteoporosis, small hips, dysplasia).

Able to correct anatomic leg length inequalities greater than 10mm.

Disadvantages
Risks of MoM bearing surface allergy (approximately 0.5 - 1% for BHR and Adept implants).

Higher dislocation rate.

Removes more bone from femur.

Revision of femoral component can be difficult.

Durability

Excellent 15 year results documented, even when used in younger and higher activity demand patients.

Long term results (>20 years) well documented.
Pain relief
Excellent pain relief is reliably predicted.
Excellent pain relief is reliably predicted.
Leg Length
Limited ability to correct significant inequality in leg length.
Able to correct significant variations in leg length.
Table 2

Patient suitability for Hip Resurfacing (Metal Type).

Good Candidate

Borderline Candidate

Poor Candidate

Age <65 years

Male

High activity level

Osteoarthritis

Femur implant 48mm+

Known metal allergy

Avascular necrosis

Future pregnancy

Small sized hip joint

Kidney disease

Osteoporosis

Significant dysplasia
| | |
| --- | --- |
| Table 3 | Frequently asked questions about Hip Resurfacing |
| Is Hip Resurfacing used for 'early intervention'? | No. Artificial hip joint replacement is a major procedure with potential risks. Like Conventional Total Hip Replacement, the decision to use an artificial joint replacement should only be made on the basis of ongoing symptoms which are not adequately relieved by other methods. |
| Are metal-metal bearing surfaces toxic? | While it is possible to develop local allergic reactions to the cobalt-chromium alloy bearing surfaces used in Hip Resurfacing, the incidence of these reactions with the Birmingham Hip Resurfacing (BHR) and the Adept Resurfacing implants is low in appropriately selected patients (approximately 0.5- 1.0%). Other "copy" devices (in particular metal-metal bearing conventional total hip replacements) have unfortunately demonstrated unacceptably high failure rates, necessitating their withdrawal from use in many countries. The Birmingham Hip Resurfacing was introduced for clinical use in 1997 with now over 125 000 implantations world wide and demonstrating excellent 15 year survivorship data. |
| Does resurfacing last longer than THR? | The results documented to date show similar implant survivorship rates between Hip Resurfacing and conventional Total Hip Replacement in appropriately selected patients. Although the demonstrated 15 year results of Hip Resurfacing are exceptional in the Australian National Joint Registry and other studies, the longer term (>20 year) results have not yet been described (Birmingham Hip Resurfacing was first released for clinical use in 1997). |
| Does resurfacing have a lower dislocation rate than THR? | Yes. The dislocation rate and also the requirement for revision for recurrent dislocations is substantially lower for hip resurfacing compared to conventional total hip replacement. Dislocation is however an uncommon complication after artificial joint replacement of any design. Many factors influence the risk of dislocation, and design of the joint replacement is only one of these factors. Joint replacements such as Hip Resurfacing that use a larger diameter bearing generally do have a lower dislocation rate. |
| Does Hip Resurfacing allow people to be more active compared to THR? | Depends on the activity. Conventional Total Hip Replacement designs are generally also be suitable for most higher grade activities. Both Resurfacing and THR provide reliably good pain relief and improvement in function. Hip Resurfacing does however have the advantage of using metal on metal bearing surfaces that are both wear and very impact resistant. |
| What surgical approach is used? | I recommend Hip Resurfacing is implanted using a posterior approach to the hip joint. |
Illustrations of femoral head preparation in hip resurfacing during surgery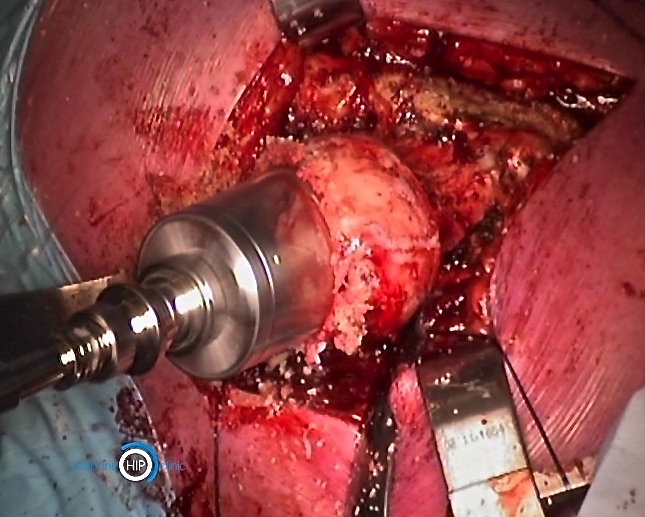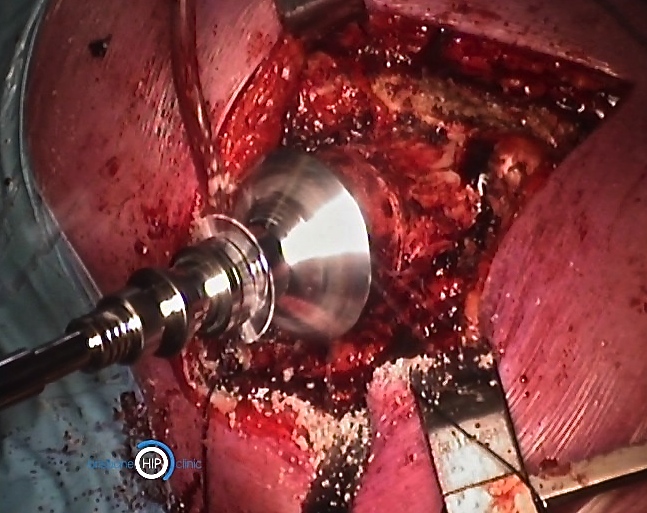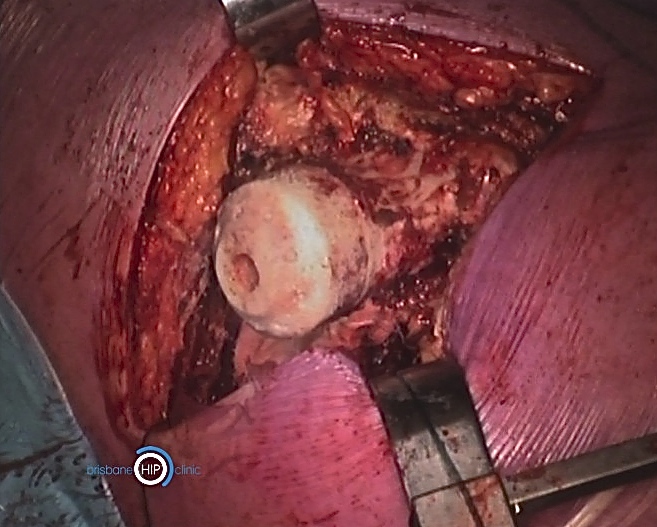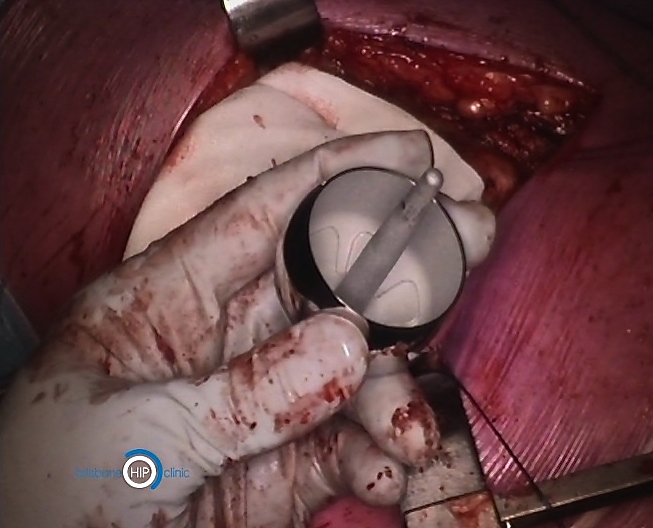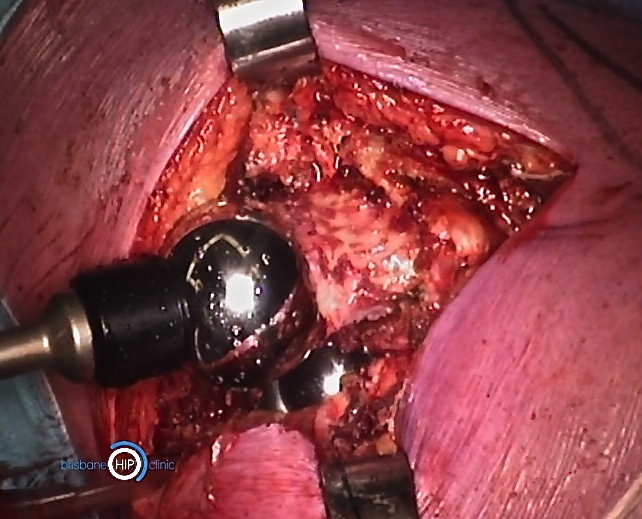 Figures 1-6 (left to right, upper then lower row): Sequence of preparation of bone and implantation of a femoral resurfacing implant.
Related publications
Scientific publications and research initiatives developed by the Brisbane Hip Clinic may be accessed via this link.
This information has been written by A/Prof Patrick Weinrauch for the purposes of patient education. The details provided are of general nature only and do not substitute for professional recommendations based on an individual clinical assessment. © A/Prof Patrick Weinrauch. Brisbane Hip Clinic. 11/16.